I'm very late to the party with this one: Cinder is big, has its own fandom, and has been out for a while. But it's never too late to fall in love with an awesome book, right?
Published 2012 by Puffin Books.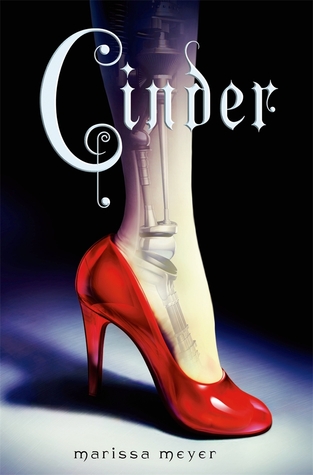 Goodreads Synopsis: A forbidden romance. A deadly plague. Earth's fate hinges on one girl . . .
CINDER, a gifted mechanic in New Beijing, is also a cyborg. She's reviled by her stepmother and blamed for her stepsister's sudden illness. But when her life becomes entwined with the handsome Prince Kai's, she finds herself at the centre of a violent struggle between the desires of an evil queen – and a dangerous temptation.
Cinder is caught between duty and freedom, loyalty and betrayal. Now she must uncover secrets about her mysterious past in order to protect Earth's future.
This is not the fairytale you remember. But it's one you won't forget.
My Review: Normally, I give it a couple of days between finishing a book and writing a review, but it's been mere few hours and I JUST WANT TO TALK ABOUT THIS BOOK. I've owned a copy of Cinder for so long that I can't remember where I got it from – it's certainly been on my TBR pile for too long. I wish I'd read it sooner!
After being in a reading slump for, well, months really, I decided I needed something a bit different to read. This totally cured said reading slump – I read the whole thing in a day. I was completely hooked on the story. Meyer is a fantastic writer, and this concept is really incredible.
If Cinder isn't on your radar, here's the basics: it's a re-imagining of Cinderella, where Cinder is a cyborg mechanic in New Beijing, a city hundreds of years in the future. A plague is sweeping this future Earth, and Cinder discovers she has an important part to play in scientific research, but this sudden shift in Cinder's life is a huge risk.
I was worried that the concept would be a bit cheesy and disjointed – how do you work the classic elements of the Cinderella tale into a story about a future with cyborgs? But, wow, it really worked. I was totally absorbed in the story, perhaps more so than any other book I've read this year. It's richly imaginative and I'm envious of Meyer's storytelling capabilities. The imagery was so vivid to me; every scene played out like an epic film in my head.
Cinder was a really interesting character. Her back story was woven into the story really well, and I felt for her throughout the book. She was so three-dimensional to me. The re-imagining of the classic Cinderella character is so clever, yet Meyer doesn't rely on the fairy tale. Instead, her protagonist is full of individuality. The only thing that did irk me was her often overly sarcastic dialogue. I couldn't work out her intentions in some chapters! But I really enjoyed reading about her all the same.
Overall, Cinder was fantastic. It's definitely one of the best fantasies I've read in a long time. If you haven't read this, I definitely recommend you do! Cinder is richly imaginative and gripping and hard to put down. I wanted to read the next instalment immediately after I turned the last page (luckily, my copy has just arrived… brb while I go binge-read this).
My Rating:
I purchased a copy of Cinder.