Published 1st June 2016 by Hot Key Books.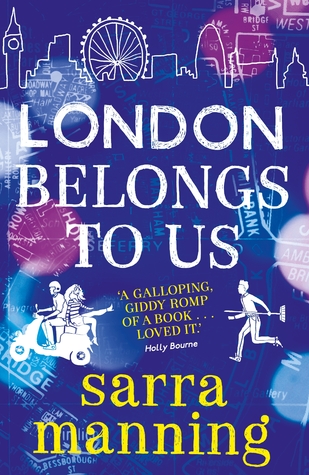 Goodreads Synopsis: Seventeen-year-old Sunny's always been a little bit of a pushover. But when she's sent a picture of her boyfriend kissing another girl, she knows she's got to act. What follows is a mad, twelve-hour dash around London – starting at 8pm in Crystal Palace (so far away from civilisation you can't even get the Tube there) then sweeping through Camden, Shoreditch, Soho, Kensington, Notting Hill . . . and ending up at 8am in Alexandra Palace.
Along the way Sunny meets a whole host of characters she never dreamed she'd have anything in common with – least of all the devilishly handsome (and somewhat vain) French 'twins' (they're really cousins) Jean Luc and Vic. But as this love-letter to London shows, a city is only a sum of its parts, and really it's the people living there who make up its life and soul. And, as Sunny discovers, everyone – from friends, apparent-enemies, famous bands and even rickshaw drivers – is willing to help a girl on a mission to get her romantic retribution.
My Review: I was sent this book by surprise, and although I wasn't entirely sure if it would be something I'd enjoy, I've heard a lot of good things about Sarra Manning's other books, so I was eager to give it a go!
London Belongs to Us is a brilliant tribute to London. It's set over one crazy, eventful night, and roughly each chapter is set within a different iconic place – from Crystal Palace to Chelsea – and with each new change in scenery brings a little chapter introduction with facts about the place. It's written almost like a love letter to London; all of the research, and attention to detail that's gone into describing the locations. I really enjoyed reading it, as there is so much emphasis on the setting, and being a Londoner (or near enough) I adored the familiarity and how easily I could envision so much of the book.
The story is hectic, as it starts in Crystal Palace Park on a late evening, and finishes the next morning – with so much happening in between. Sunny unexpectedly receives a photo of her boyfriend with another girl, and a wild chase across London ensues to solve the story – along the way, there's all sorts of craziness, from mopeds to nightclubs and concerts to The Ritz. It was fast paced and adventurous; so much fun to read, and it's short enough to enjoy in a day. It's a silly thing to pick up on, but I did question the plausibility of some of the wild things that happened… To think that some people roughly my age did some of those things, and all in one night, is crazy 😀
One thing I noticed about the story, and really appreciated, was that the topic of racism was brought up. Sunny, the main character, is mixed race, and over the course of the book multiple comments are made by other characters about her colour of her skin, making snap judgements and rude stereotypical statements. I think the way the author wrote about these was incredibly realistic and I like the way the topic was treated; it's something I'd love to see a lot more in books.
Overall, London Belongs to Us was a fun book, and one that's perfect for you if you're looking for a short but enjoyable summer story… Or an ideal London train read! I really enjoyed reading about Sunny and Emmeline, and the ridiculous things they did all in one night. It's very quirky and very random – a great tribute to an equally quirky and random city.
My Rating:
I received a copy of London Belongs To Us from the publisher, in exchange for a review. In no way at all did this affect my thoughts.