Related posts: Cover Reveal: Phoenix Rising by Bryony Pearce | Book Review: Phoenix Rising by Bryony Pearce
I really enjoyed Phoenix Rising, the first instalment in a series set in the near future, where fossil fuels have run out. I was over the moon when asked to join the blog tour for its sequel! Continue reading to hear from Bryony Pearce, the author, about her experience with writing Phoenix Burning, which is out now.
–
Writing a sequel for the first time by Bryony Pearce
The first novel I sold, Angel's Fury, was a standalone. I had ideas about what I would write in a sequel, should I be asked for one, but the book was finished as it stood and I had many readers saying that they liked it for that – at the time I think there was a glut of YA series fiction and a standalone novel was something different for readers, who were perhaps getting bored waiting for a couple of years to find out how their favourite story ended.
The Weight of Souls was a bit different – it was bought as a stand-alone, but my editor wanted me to leave it open for a possible sequel. Book two was planned out and ready to go, when the publisher closed down. Readers were annoyed that The Weight of Souls ended on a cliff-hanger (the ancient Egyptian evil released from its tomb), but there was nothing I could do about it.
Phoenix Rising was always intended to be the first of a series. Stripes bought two books, so I knew that I would certainly be writing at least one more story in Toby's world. So from the beginning of book one I was planning the sequel. Events in Phoenix Burning were seeded in Phoenix Rising (the sun worshippers, Ayla's fear of fire, Toby's missing mother, Hiko's tattoo, the map, the near miss with the boiler) and I was careful to take notes that I could refer back to while writing a second book – key character descriptions, key events and so on.
Once Phoenix Rising was written, I was excited to get back into Toby's world and write more of his story. As a reader I enjoy series fiction, mainly because I like to remain longer with the characters I love, and as a writer, it turns out that I like the aspect of this too. I enjoyed spending more time with Toby, allowing his character, and that of secondary protagonist, Ayla, to grow and develop even more.
By the end of Phoenix Rising, Toby has done some real growing up, but it is only at the end of Phoenix Burning, that the lessons he has been learning about trust and adulthood, really come home to him. At the start of Phoenix Rising Toby is a coddled child, by the end he is a teenager, but at the end of Phoenix Burning, he is an adult, making real decisions and taking responsibility for his actions.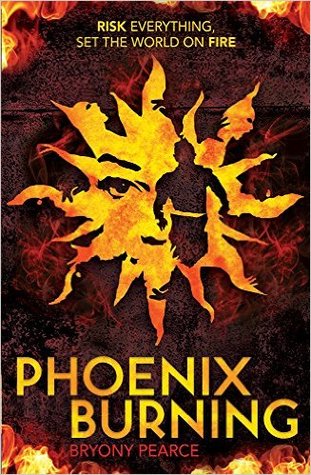 Ayla on the other hand thought she was an adult at the start of Phoenix Rising and by the end of the arc, has had her confidence shaken and learns that she still has a lot of learning and growing still to do.
I really enjoyed being able to take elements seeded in Phoenix Rising and seeing where I could take them, and wind them through the next story, tying the two together. I hope that I have given the reader some real 'a ha' moments.
I particularly loved using the event at the very beginning of Phoenix Rising, the broken delivery line that almost causes the boiler to explode, as the thing that gives Toby the idea of how to escape the Greyman ship in Phoenix Burning.
Despite all my planning it was hard at times to write a sequel. It felt as if I'd been with Toby for so long, that it was easy to forget that only a few weeks had passed in his world. I ran the risk of making him too adult.
Sometimes I found myself forgetting important things and having to break my own cardinal rules bout re-reading my published novels, just to make sure that I got my facts right.
But really I love spending more time with Toby and I hope that you do too.
–
A huge thank you to Bryony for talking about Phoenix Burning on this blog! I'm really looking forward to reading it. Phoenix Burning is available now, but if you haven't read book one yet, you may want to check out my review 🙂