Published May 4th 2017 by Quercus.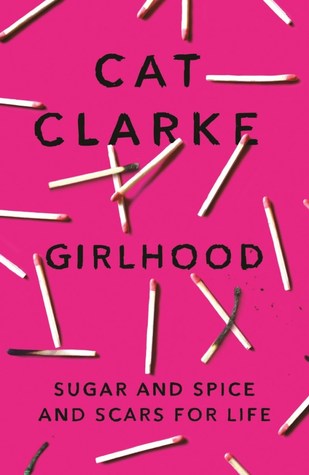 Goodreads Synopsis: Harper has tried to forget the past and fit in at expensive boarding school Duncraggan Academy. Her new group of friends are tight; the kind of girls who Harper knows have her back. But Harper can't escape the guilt of her twin sister's Jenna's death, and her own part in it – and she knows no one else will ever really understand.
But new girl Kirsty seems to get Harper in ways she never expected. She has lost a sister too. Harper finally feels secure. She finally feels…loved. As if she can grow beyond the person she was when Jenna died.
Then Kirsty's behaviour becomes more erratic. Why is her life a perfect mirror of Harper's? And why is she so obsessed with Harper's lost sister? Soon, Harper's closeness with Kirsty begins to threaten her other relationships, and her own sense of identity.
How can Harper get back to the person she wants to be, and to the girls who mean the most to her?
My Review: I first heard about Girlhood at YALC last year, so I've been really excited about getting a copy for a while. Cat Clarke's last three books were incredible, so I had high hopes for this one.
Girlhood takes place at a Scottish boarding school, where Harper has spent the time since her twin sister died. When a new girl joins Harper's tightly knit group of friends, and seems to feel the same way as Harper, the group's friendship is put to the test as dark secrets surface.
I really liked the set-up for the book. I haven't read many books set in a boarding school and I feel like it set a really fitting tone for the story, isolating the girls so the main focus is on their relationship dynamics. It definitely added an eerie atmosphere to the story.
One of my favourite things about Girlhood is that the friendship group was refreshingly diverse. Hell yes for a bisexual protagonist! And a gay roommate! And a friendship group that isn't all white! I think the characters all had a really interesting dynamic too. I wish that some had been explored further, such as Ama, but the story was still really engaging and I loved the protagonists and their chemistry.
I feel this book was quite different from Clarke's previous ones, as it felt less suspenseful to me – but it was still an incredibly riveting read. I ended up devouring it in a day, pretty much in one sitting, because I was so eager to understand why Kirsty's actions were obsessively mirrored Harper's. I did predict part of the truth revealed at the end, but it was still such an engrossing story.
Overall, Girlhood is another exciting book from Cat Clarke that I definitely recommend reading. It's a really captivating read, that had me intrigued form start to finish. It explores so many different themes, from family death to the complications of friendships when you're a teenager. I feel like it's quite different from some of Cat Clarke's books, like Undone, but it's still a fantastic read.
My Rating:
I received a copy of Girlhood from the publisher, in exchange for a review. In no way at all did this affect my thoughts.