Published 6th April 2017 by Bloomsbury.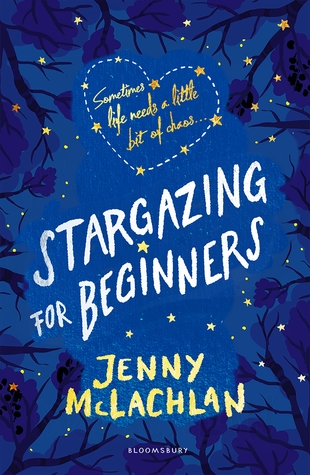 Goodreads Synopsis: Science geek Meg is left to look after her little sister for ten days after her free-spirited mum leaves suddenly to follow up yet another of her Big Important Causes. But while Meg may understand how the universe was formed, baby Elsa is a complete mystery to her.
And Mum's disappearance has come at the worst time: Meg is desperate to win a competition to get the chance to visit NASA headquarters, but to do this she has to beat close rival Ed. Can Meg pull off this double life of caring for Elsa and following her own dreams? She'll need a miracle of cosmic proportions…
My Review: I'll admit I'm one to judge a book by its cover. Though I hadn't read any of McLachlan's books previously, I was really drawn to this. How beautiful is it?! Anyway, I'm glad I did decide to give it a go because this is now definitely up there in my favourite reads of 2017 so far.
Stargazing for Beginners tells the story of Meg, an teenage aspiring Astronaut, who is hesitantly entering a competition to go to Houston. Just two weeks away from her competition, Meg's mother suddenly leaves for a humanitarian cause, rendering Meg in a difficult situation, juggling school, her aspirations and her baby sister. It's a crazy concept, but I absolutely adored it. I became really emotionally invested in the story; I didn't expect to become so attached.
I cannot fault McLachlan's characterisation at all: it's fantastic. Every person in the book felt so real to me, from Meg and her quirky family members to the pupils at her school. I particularly loved reading about Meg developing a relationship with her baby sister, in light of her mum leaving. So much of this book was unexpectedly poignant and beautifully written.
One of the things I loved most about Stargazing for Beginners is it's portrayal of feeling like an outcast at school. Meg sticks out, being overly passionate about science and labelled a geek. She's such a relatable character, appealing to read about for anyone who's ever been through the horrible experience of Secondary school 🙂 It was really moving to see Meg develop a network of friends over the course of the story. And, of course, it was fantastic that one of those friends was portrayed with Cerebral Palsy, a physical disability affecting movement. Disabled characters seem to be pretty underrepresented, particularly in terms of genuine portrayals – so this was really awesome to see.
Stargazing for Beginners has such a wide appeal. Its themes of family and space are written about so wonderfully, it's hard not to fall in love with the story. I tend to read books with darker or slightly older themes, so I wasn't sure how much this would appeal to me, but I fell in love with it. The story is so uplifting and touching, I can't imagine that any kind of reader would dislike it.
Overall, I would definitely recommend Stargazing for Beginners. It's perfect for anyone, of any age, looking for a feel-good read. Witty, moving and memorable, this is bound to sweep you up as it did with me. Having really enjoyed this, I'm very excited to see what McLachlan writes next!
My Rating:
I received a copy of Stargazing for Beginners via the publisher, in exchange for a review. In no way at all did this affect my thoughts.