Related Posts: Book Review: Lies We Tell Ourselves by Robin Talley | GCSE English Literature: A Call for Diversity on the English Curriculum
Published 6th September 2016 by Mira INK.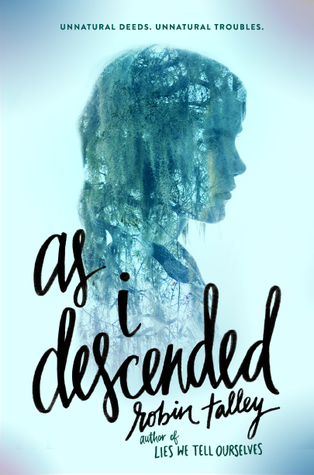 Goodreads Synopsis: Maria Lyon and Lily Boiten are their school's ultimate power couple—even if no one knows it but them. Only one thing stands between them and their perfect future: campus superstar Delilah Dufrey.
Golden child Delilah is a legend at the exclusive Acheron Academy, and the presumptive winner of the distinguished Cawdor Kingsley Prize. She runs the school, and if she chose, she could blow up Maria and Lily's whole world with a pointed look, or a carefully placed word.
But what Delilah doesn't know is that Lily and Maria are willing to do anything—absolutely anything—to make their dreams come true. And the first step is unseating Delilah for the Kingsley Prize. The full scholarship, awarded to Maria, will lock in her attendance at Stanford―and four more years in a shared dorm room with Lily.
Maria and Lily will stop at nothing to ensure their victory—including harnessing the dark power long rumored to be present on the former plantation that houses their school.
But when feuds turn to fatalities, and madness begins to blur the distinction between what's real and what is imagined, the girls must decide where they draw the line.
My Review: Words cannot express how much I adore Robin Talley's writing. She burst onto the LGBT YA scene with an unforgettable debut, and I'd argue that she's one of the most important writers in YA at the moment! From the moment I heard that she was writing a retelling of Macbeth, I was practically jumping around with excitement, and my fangirlish-ness hit the roof when I was offered the chance to review it.
As I Descended is based loosely on the story of Macbeth, but not so much that you need any knowledge of the play. Secret power couple Maria and Lily are two of the most intelligent girls at Acheron, their prestigious boarding school, and if Maria can snag the Crwaford Kingsley prize, she and Lily will be set to carry on living together happily at college. However, when certain students start to get in the way of their plan, both girls make plans to eliminate their competition; and things take a dark turn with help from the unknown, darker side to their school.
I have to mention in this review how important books like these are – because they're out there, but they're very rare. Most of the main characters in As I Descended are LGBT*, and the 'coming out' side of their stories is not the whole focus of the novel. As important as coming out books are, I think just seeing LGBT characters engage in adventures themselves is imperative. It should be a norm in YA 🙂 (if anyone has any LGBT non-coming-out books they've enjoyed, let me know, I need more of these in my life!)
I absolutely adored all of the characters; Robin Talley takes the time to examine the backstories and the internal conflicts of each student, and they all felt incredibly real to me. I ended up feeling so conflicted about Maria and Lily especially (in a good way!) because they are both such loveable characters, and yet do such incredibly dark things. What I also loved about the characters is that they're refreshingly diverse, beyond the angle of sexuality; Lily is physically disabled from a car accident, Maria and Theo are Hispanic, and Brandon is illustrated as being "fat" whilst not being portrayed in a negative light.
As for the story… whoa. I had assumed it would be quite dark, as after all, it is based on the plot of Macbeth. However, I didn't anticipate it being just as dark as it was! Mostly, I read this book during a week's internship – on my lunch breaks and commute into London – and I was so absorbed, I didn't want to put the book down! It grips you from the opening pages, and leaves a ghostly imprint on your mind when you've finished it. Eerie doesn't even begin to cover it; I'm not usually so spooked by horror novels, but this was definitely an exception, as there were so many parts that literally evoke shivers. The book begins with a Oujia Board experiment that doesn't go to plan, and the events of the novel cleverly spiral out of control from there, weaving in myths about the boarding school. Robin Talley does an excellent job of writing a fantastic, classic-feeling horror story, that still doesn't feel cheesy or cliche at all.
Overall, I highly recommend As I Descended – it ticks all the boxes for me. It's addictive, well paced, with an excellent plot and a memorably diverse cast of characters… Not to mention, it's incredibly creepy! It's the perfect read to gear up for Halloween with – just don't read it in the dark (or in the bathroom…)
I received a copy of As I Descended from the publisher, via Lovereading4kids, in exchange for a review. In no way at all did this affect my thoughts.