Published 1st January 2015 by David Fickling Books.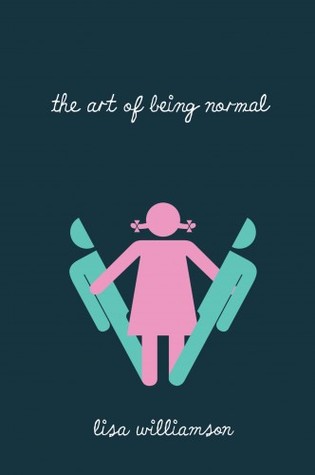 Goodreads Synopsis: Two boys. Two secrets.
David Piper has always been an outsider. His parents think he's gay. The school bully thinks he's a freak. Only his two best friends know the real truth – David wants to be a girl.
On the first day at his new school Leo Denton has one goal – to be invisible. Attracting the attention of the most beautiful girl in year eleven is definitely not part of that plan.
When Leo stands up for David in a fight, an unlikely friendship forms. But things are about to get messy. Because at Eden Park School secrets have a funny habit of not staying secret for long.
My Review: It's pretty hard to collect my thoughts about The Art of Being Normal! I knew, from the many tweets I had seen about it, that it was going to be a stunning novel, and it was. I was speechless after finishing – I had no idea it was going to be that amazing.
I was so glad The Art of Being Normal it was receiving so much hype when I first heard about it last year, as not only is it a debut UKYA novel, but it's also a story of growing up as a transgender teenager – a topic that is very rarely discussed in YA fiction. I think the only YA book I've read that centres around a character's gender in a similar way is Pantomime by Laura Lam.
I have never read a book that tackles such a rarely-discussed subject so fearlessly. Lisa Willamson's story is brutally honest, and very real-feeling. I definitely had moments where I was tearing up a little. The writing was strong, beautiful and engaging; from the first words I was swept up in David's and Leo's stories. I really felt like I was there, alongside them, or experiencing their situations first-hand.
The plot developed so well. I don't think I've ever found an apt situation to use the phrase "the pages practically turned themselves" – but with The Art of Being Normal I can deifnitely use that. I never go through a book of this length in a day, but I literally couldn't put it down. I was reading to and from school; during class; all through the evening. So many aspects just captured me: From the interesting social divide between characters, to the familiar UK school setting, to the very unexpected twists.Williamson has an unbelievable talent for storytelling and I'm very eager to see what she writes next.
Leo and David are characters whose stories I think I'll always remember. They're both in secondary school, of different social classes and circumstances, but they're both struggling to cope with many issues. They were incredibly relatable & real feeling, and I was rooting for them all of the way. They develop so much over the course of the story. My favourite thing about the book was David and Leo's chemistry and how it changes especially at moments like that reeeally big plot twist that I did not see coming…
Overall, The Art of Being Normal is most definitely one of the most powerful début novels I've ever come across. It was riveting, eye-opening, and had some perfectly crafted characters. I can tell we'll be hearing a lot more from Lisa Williamson in the future; her writing voice is incredible. I'm so glad a story like this has gotten so much attention because stories like this need to be read by everyone.
My Rating:
I received a copy of The Art of Being Normal from the publisher, in exchange for a review. In no way at all did this affect my thoughts.