*unrelated note: I have been so busy, with school ending, and working at a school summer project, and other things, that I haven't posted a book review in almost a month… *hangs head* Sorry D: But now I've finished school-related things properly, I'll hopefully be neglecting the blog a lot less! Yay! (:*
Published September 2014 by Doubleday books.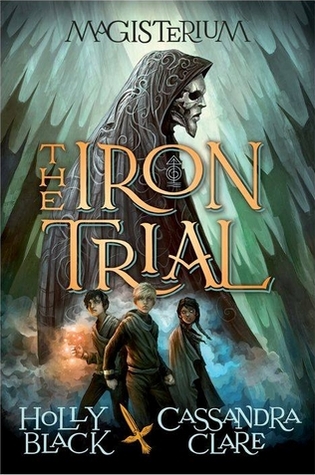 Goodreads Synopsis: From NEW YORK TIMES best-selling authors Holly Black and Cassandra Clare comes a riveting new series that defies what you think you know about the world of magic.
From two bestselling superstars, a dazzling and magical middle-grade collaboration centering on the students of the Magisterium, an academy for those with a propensity toward magic. In this first book, a new student comes to the Magisterium against his will — is it because he is destined to be a powerful magician, or is the truth more twisted than that? It's a journey that will thrill you, surprise you, and make you wonder about the clear-cut distinction usually made between good and evil.
My Review: 
I started The Iron Trial really excitedly. I'm a big fan of both Cassandra Clare and Holly Black, so I thought that both of them collaborating on a book was a brilliant idea! For the first half of the book, though, I did struggle to get into the story… I definitely had a few issues with the story but towards the end I did enjoyit.
I did really like the characters- namely Call, who's the main protagonist. As this is an MG book, and the start of a series, I think lots of younger readers are going to grow up loving him and the rest of the students at the Magisterium.
I grew to really enjoy Magisterium, but, mainly for the first half, there were so many points where I got agitated by it. I just found so many parallels to Harry Potter – wizards hiding in plain sight in an ordinary world, secret school, trio of kids (on the front cover) who look a little too much like Harry, Ron and Hermione… yup. (I know the themes are in lots of books, but still…) There were some really great plot twists, mainly towards the end, that made me grow to love the story a lot more, but for the first couple of hundred pages, I was a bit disappointed, because of the similarities.
Okay, ignoring the negative aspects for now; I really did loved the writing! I enjoy Cassie's writing and adore Holly Black's, so the two put together was just awesome. They've adapted their voices really well for an MG audience, I think. I will probably carry on reading the Magisterium series, as I love their joined writing style.
Overall, I did enjoy Magisterium, but it definitely didn't live up to what I'd expected. The writing was superb and will definitely draw readers in, but the storyline didn't do the same for me. I think, growing up with Harry Potter, I'm a little protective of it, so I just disliked reading a very similar story. However, after the twists at the end, I hope that the rest of the series will have a more original sound – I'm sure I'll be making time for the sequel when it comes out!
My Rating:
I received a copy of Magisterium: The Iron Trial from the publisher, in exchange for a review. In no way at all did this affect my thoughts.