Published 2nd April 2015 by Andersen Press.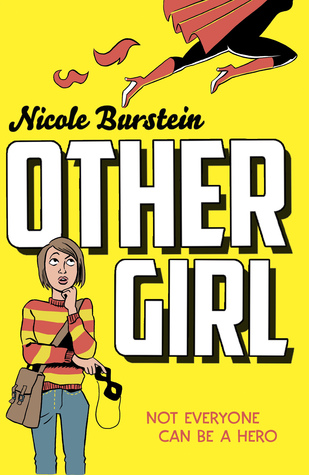 Goodreads Synopsis: Louise and Erica have been best friends since forever. They're closer than sisters and depend on each other for almost everything. Just one problem: Erica has superpowers.
When Erica isn't doing loop-the-loops in the sky or burning things with her heat pulse powers, she needs Louise to hold her non-super life together. After all, the girls still have homework, parents and boys to figure out. But being a superhero's BFF is not easy, especially as trouble has a way of seeking them out. Soon Louise discovers that Erica might be able to survive explosions and fly faster than a speeding bullet, but she can't win every fight by herself.
Life isn't a comic book – it's even crazier than that.
My Review: I've been following the author of Othergirl, Nicole, on Twitter for a while and she often tweets about geeky awesomeness, mainly comics – so I was really eager to read her début novel as soon as I heard of the book deal. After what seemed like a long time, I wandered into Waterstones a while ago and didn't realise it was out. I've never purchased a book quicker!
A main reason I was excited about this was that it tells the story of the one stock comic book character who's always left behind; the superhero's best friend. Louise has known Erica for years, and helped her through her discovery of superpowers – even making a costume for her.When Erica's secret powers suddenly mean she's part of a very big event, Louise is pretty much left behind, as Erica quite literally flies off without her.
The plot was so brilliantly written and paced. I intended to only read a few chapters, but ended up reading the entire book in one go. I loved the idea behind the story and it was told brilliantly, with some humour and a little romance too that I wasn't expecting. The world in Othergirl is identical to our own… but there's a world famous, world wide network of Superheroes called the Vigils, sponsored by large companies and immortalised on kids' walls as posters. I really enjoyed reading about the superhero organisation, and kinda wish there was one like it IRL… 😀
The characters are so brilliantly crafted and understandable. Louise is a caring friend who always goes the extra mile, while Erica is more self-absorbed and tends to be more reckless and angry. Their chemistry is really interesting. I never fully liked Erica as she was often pretty dismissive of Louise – and I resonated with Louise more, being the typical quiet nerd. The ending made me tear up a little, actually!
Overall, Othergirl was definitely worth the wait. It was exactly as great as I wished it would be, and more. I'm so happy there's a book like this in the YA market.  The characters were so fun to read about, as was the inventive world of superheroes Nicole Burstein has created. I don't think I've ever seen an author's personality reflected so much in their work as in Othergirl. (Also, bonus! Little comic book tributes hidden in the novel…) Highly recommended – this has fast become a favourite of the year.
My Rating:
I purchased a copy of OTHERGIRL from a local bookstore.