Today's post isn't a conventional review! I was kindly sent a copy of Arthur Braxton, a book I have wanted to read for months, and given that the movie adaptation is out soon (and that this new edition of the book has just published), I thought I would make this review a part-discussion, too!
I've been a fan of Luke Cutforth on YouTube for a long time, so when I discovered he was making his first feature film, I was jumping around in excitement. I can't wait to see it.
Review and Discussion:
Written by Caroline Smailes, published by 4th Estate; adapted into film by Luke Cutforth.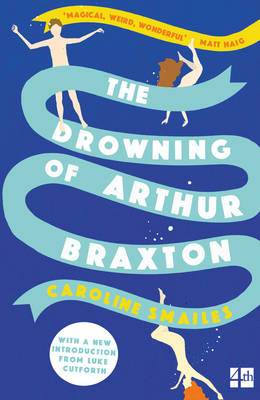 Goodreads Synopsis: Arthur Braxton runs away from school.
He hides out in an abandoned building, an old Edwardian bathhouse.
He discovers a naked woman swimming in the pool.
From this point on, nothing will ever be the same.
My Review: It's hard to put how I felt about this book into words. It is equal parts strange and wonderful and messed up, but that's why I liked it.
Reading this book was an incredibly weird experience. Although I enjoyed it, it didn't instantly blow me away, but it properly hit me after I'd put the book down and began mulling it over. The story, to anyone going in unknowing of the plot, is bizarre, but captivating; teenage Arthur Braxton finds his way into an abandoned bathhouse on a desperate night, and what he finds in there changes his life forever.
I couldn't like Arthur very much at all, which was sad – but the characters I did adore were the ones that he finds in the swimming pool. Without giving away anything, I'll say that their stories brought me to tears, and were told in such memorable ways. Lots of people adore Arthur's character for how brutally honest the representation of his character is, but for me I couldn't enjoy it too much. I'll admit that I found it a bit crude in places (even th
ough that is how it's supposed to be!). Despite being an accurate depiction of a teenager, I just wished he had some qualities I could've liked.
I can't wait to see how the film adaptation presents all of the characters on screen. I'm not sure how accurate they can be (given that there's a lot of nudity and swearing, and I'm assuming the producers will be aiming for a 12/15 rating) but it'll be really exciting to see how they appear. The casting looks fantastic so far, and features lots of upcoming talents, so I'm really excited!
The format of the book was really interesting, and not what I had expected! Different characters told their stories in varying styles – parts were in script, parts were conventional storytelling, and a couple of chapters were simply just dialogue. I adored the way in which the plot was told and presented – it felt very refreshing and kept me engaged. I'd love to read more books told in quirky ways like this.
What I also enjoyed about the book was the setting, and how there's a lot between the lines to read into. Most of the book is set within the Oracle, an abandoned bath house set to be demolished and rebuilt. I envisioned it as a really haunting looking place, but the BTS photos of the set so far are very different – though it looks awesome!
If I am completely honest, I was not blown away by this book whilst reading it – not every aspect appealed to me, and
parts were very unsettling. However, I think part of the reason I didn't fall in love with it was because I wasn't taking in the mythological aspects of the book – it flew right over my head! I read up on it after reading, and began to appreciate the story much more. There are many layers to this unique story, and it'll be really interesting to see how Luke, director, translates these from page to screen.
Overall, The Drowning of Arthur Braxton left me in a very weird state after reading. It's unlike anything I have ever read before; strange, haunting and weirdly wonderful. I'd recommend it to anyone who is looking for a very unconventional story; one that will make you laugh and cry.
I think Luke is the perfect director for this film. By looking at his YouTube channel, anyone might think he's a strange choice – most of his videos are on the bizarre, funny side – not serious. But I think he'll bring the brilliant crudeness to the film that the book has; and also, from his directing of various music videos on YouTube in the past, I can tell he's definitely made for this sort of thing. It will be awesome to see his skills adapting to a much bigger project.
The new edition of this book (cover pictured at the top of this post!) also contains a new introduction written by him – so it's definitely worth checking that out!
My Rating:
I received a copy of The Drowning of Arthur Braxton from the publisher, in exchange for a review. In no way at all did this affect my thoughts.