Published 4th June 2015 by Penguin Random House.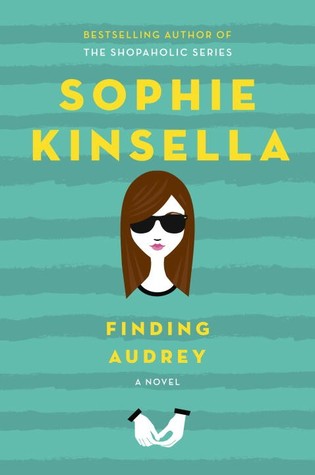 Goodreads Synopsis: An anxiety disorder disrupts fourteen-year-old Audrey's daily life. She has been making slow but steady progress with Dr. Sarah, but when Audrey meets Linus, her brother's gaming teammate, she is energized. She connects with him. Audrey can talk through her fears with Linus in a way she's never been able to do with anyone before. As their friendship deepens and her recovery gains momentum, a sweet romantic connection develops, one that helps not just Audrey but also her entire family.
My Review: I recognised Kinsella's name on the email I'd received about this – my first thought was I'll pass on this; her books aren't my thing. But, out of curiosity, I read on in the email to see her latest was to be a YA novel – and not only that, but one about a girl coping with social anxiety. Needless to say, I couldn't have been more eager to read it!
Finding Audrey is told brilliantly through the perspective of the main character, who is suffering from depressive episodes and social anxiety disorder. She feels trapped in her house, behind her sunglasses: And everything starts to take a different turn when she meets her brother's friend Linus and her therapist asks her to start a film project.
I connected with Audrey straight away. She's a very relatable and believable protagonist. There's an event that caused her severe anxiety, and it's suggested that there was some harsh bullying – though nothing is fully revealed. That irked me slightly at first, though I grew to get along with that – because (this might sound weird) but the reader can kind of apply their own experience to it.
Her relationship with Linus that evolves from a few awkward meetings fast became one of my favourite love stories of this year. I'm always very cynical of love interests (Just me being fussy) but Linus was so likeable and I loved the chemistry he had with Audrey – not to mention his encouragement for her.
Audrey's family is hilarious and I loved them form the first chapter – in which her mum goes a little crazy and tries to throw her gamer brother's PC out of the window. Audrey's family's antics were just so funny – I rarely laugh out loud at books but this book made me, on multiple occasions.
Overall, Finding Audrey was a really stunning YA début – I would love to read more YA fiction from Kinsella in the future! The characters were so well developed and despite the book only being just under 300 pages, I really felt like I knew all of them by the end. (Did I mention that I stayed up until two in the morning to finish this? Yep, that happened. Nope, I have never done that with a book before. I was engrossed.) Highly recommended, if you're looking for a heart-warming tale; a perfect blend of humour and hope.
My Rating:
I received a copy of Finding Audrey from the publisher, in exchange for a review. In no way at all did this affect my thoughts.