Published 1st May 2014 by Templar books.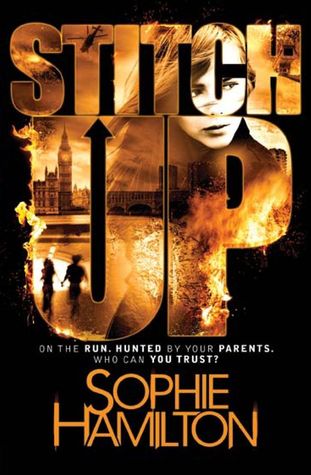 Goodreads Synopsis: Information is power, but image is everything…
Dasha Gold enjoys a life of indulgence, made possible by her powerful and wealthy parents. But this privilege comes at a price – extreme image control, including cosmetic surgery to transform her into a living logo for their brand.
Presented with a way out, Dasha embarks on a hunt for the truth that takes her across a divided and CCTV-dominated city, in the company of maverick Londoner Latif.
But money talks and the Golds own the media. Who can Dasha really trust?
My Review: When I started Stitch Up, I knew I was in for an action packed, thrilling read- but I think I underestimated just how action packed and thrilling it would be! Stitch Up had me completely hooked, right from the beginning.
The world building was so amazing. Stitch Up really stood out as a dystopia novel; Sophie Hamilton's vision of a near-future London was so memorable. It's controlled by media giants, visibly divided between the rich and the poor and is pretty much on the brink of a big-brother style society, with CCTV around every corner. In a lot of aspects, it is actually very similar to London right now, which gave it a really scary edge!
I really grew to like all of the characters- especially Latif, who's the supporting character and the teenage, 'rebel' boy who saves Dasha from a dangerous London street just after she's run away. I really did like Dasha; she's in a really complex decision at the beginning of the book (should she run away, and be free but have to live as lower class and in the shadows, or should she stay with the Gold family, live a life of luxury… but have major plastic surgery to become a living logo?) and she felt very realistic, making really harsh decisions. She was quite relatable. One thing I didn't really like about her though was the fact that she seemed snappy towards the people who help her, and cover up all of her traces.
The plot progressed in a way I wouldn't have ever imagined! Every few chapters or so, just as the reader thinks they've got the resolution sussed out, there's a shocking plot twist or event that changes the entire course of the story. It's ridiculously clever, too. I loved the way everything came together towards the ending- all of the pretty complex drama fit together like a jigsaw and I was left gob-smacked, kicking myself for not sussing it out!
Overall, I really enjoyed Stitch Up. I began it hoping for a pretty fun read, and I got way more than what I expected. This is Sophie Hamilton's début novel… And so I can't wait to read more from her in the future (Especially the sequel to this book, Mob-Handed!). The characters are relatable, modern and generally just awesome. I found the plot scarily possible, and really interesting. I've never seen the topic of image, and media handled like this in a book before. I highly recommend Stitch Up if you're looking for a new favourite thriller novel.
My Rating:
I received a copy of Stitch Up from the publisher, in exchange for a review. In no way at all did this affect my thoughts.