Related Posts: 2016 Releases: Books on my To-Read List!
Published April 2016 by Bloomsbury Books.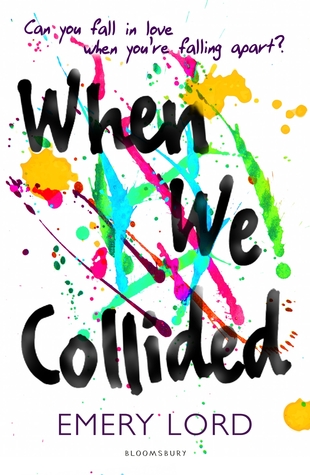 Goodreads Synopsis: Meet Vivi and Jonah: A girl and a boy whose love has the power save or destroy them.
Vivi and Jonah couldn't be more different. Vivi craves anything joyful or beautiful that life can offer. Jonah has been burdened by responsibility for his family ever since his father died. As summer begins, Jonah resigns himself to another season of getting by. Then Vivi arrives, and suddenly life seems brighter and better. Jonah is the perfect project for Vivi, and things finally feel right for Jonah. Their love is the answer to everything. But soon Vivi's zest for life falters, as her adventurousness becomes true danger-seeking. Jonah tries to keep her safe, but there's something important Vivi hasn't told him.
My Review: I'll admit, this was a book I judged quite largely on the cover – it was so beautiful, I just had to see what it was about. And I'm so glad I was pulled into it. When We Collided was everything I expected and so much more; a truly unforgettable story that I want to recommend to everyone.
It's hard not to fall in love with the characters from the opening pages; instantly, I was swept up within the separate lives of Vivi and Jonah – her bustling, art filled life, and his busy and mourning family – and didn't want to stop reading as they, well, "collided." Both Vivi and Jonah have awful hardships in their life, but after finding each other, it's like they both have a new lease of life. I've never read anything by Emery Lord before, but I really want to now; her ability to craft realistic, memorable characters is second to none.
Mental health is a topic discussed often in YA fiction – and When We Collided is an incredible depiction of bipolar disorder. The author writes about it honestly and openly, and in a very realistic way. I think it was discussed really well in the book – Emery Lord's writing is authentic and raw, her characters voices genuine.
I could tell from about a third of the way in that this book was bound to get quite sad at some point – it does, inevitably, but I was so wrapped up in Vivi and Jonah's lives that I hardly saw it coming. The plot is so heartbreaking, but there are plenty of points that made me smile – Vivi's happy moods are infectious. The whole book is a roller-coaster of emotion, and I definitely wasn't expecting such a powerful story.
Overall, I'm incredibly glad I got the chance to read When We Collided – it was a moving, wonderful book and I can't wait to read more from Lord in the future. I've never fallen for characters or gotten so engrossed in a love story so quickly. When We Collided is the perfect book if you want to read about some amazing characters, with a heartbreaking but also at points uplifting story. And the setting is gorgeous. I really can't do this book justice – just go have a read for yourself 🙂
My Rating:
I received a copy of When  We Collided from the publisher, in exchange for a review. In no way at all did this affect my thoughts.