Published 6th November 2014 by Hot Key Books.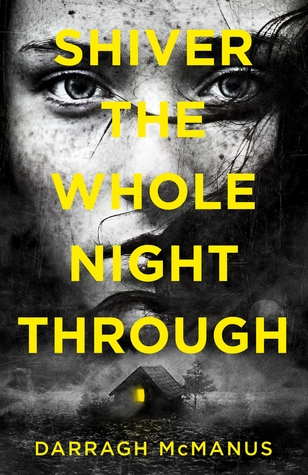 Goodreads Synopsis: After months of bullying and romantic heartbreak, seventeen-year-old Aidan Flood feels just about ready to end it all. But when he wakes up one morning to find that local beauty and town sweetheart Sláine McAuley actually has, he discovers a new sense of purpose, and becomes determined to find out what happened to her. The town is happy to put it down to suicide, but then one night Aidan gets a message, scratched in ice on his bedroom window: 'I didn't kill myself.' Who is contacting him? And if Sláine didn't end her own life… who did?
(First things first, let's just stare at the cover for Shiver for a while. Whoa. That is the coolest thing.)
My Review: I dived into Shiver The Whole Night Through as soon as I could after receiving it, as there's been a lot of hype around this book, and of course, I'm always eager to read new début YA titles!
From the first page, I was completely absorbed the story, with the shocking event it opens with. I was also a little surprised by the narration of the book: I've tried to collect my thoughts about it properly but I honestly don't know how I feel about it! I think Darragh McManus has captured a very unique and real-feeling voice, though I felt at quite a few points that the narration sounded too cocky, which bugged me a little.
As I am with the narration, I'm a little mixed on the main character. I really loved the author's character building skills, as Aidan Flood felt like a very realistic person to me. I liked him as a protagonist, especially at the beginning, but he did seem a little strange, in terms of his actions and feelings… He seemed eerily okay with some terrifying, and grim, things that happened in the book!
I really enjoyed how the plot progressed; there was lots of great foreshadowing and little hints as to what was coming – I thought I had the ending completely correct, but when I got to it, I was just completely wrong! The story begins at a very grim point, but it spirals into an even darker state with each chapter.The horror elements were really great and chilling; I definitely got shivers (no pun intended) up my spine while reading.
Overall, I really enjoyed reading Shiver The Whole Night Through, though it wasn't what I'd expected and I'm a little mixed on some things. I was, well and truly, hooked  – There was never an uneventful chapter. It's a brilliant read for those who want to curl up this winter with a thrilling and chilly story! I'm probably in the minority though, but there was a few parts I didn't really enjoy, or thought could have been written differently – though I do applaud Darragh McManus for writing a really creeeeepy début.
My Rating:
I received a copy of Shiver The Whole Night Through from the publisher, in exchange for a review. In no way at all did this affect my thoughts.