Published 22nd May 2014 by Pan Macmillan.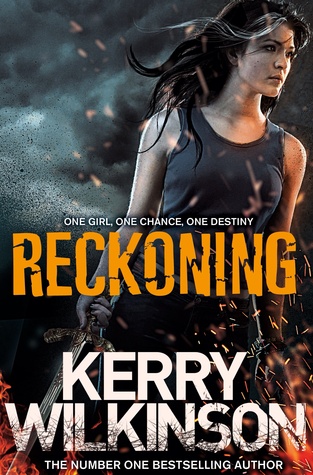 Goodreads Synopsis: In the village of Martindale, hundreds of miles north of the new English capital of Windsor, sixteen-year-old Silver Blackthorn takes the Reckoning. This coming-of-age test not only decides her place in society – Elite, Member, Inter or Trog – but also determines that Silver is to become an Offering for King Victor.

But these are uncertain times and no one really knows what happens to the teenagers who disappear into Windsor Castle. Is being an Offering the privilege everyone assumes it to be, or do the walls of the castle have something to hide?

Trapped in a maze of ancient corridors, Silver finds herself in a warped world of suspicion where it is difficult to know who to trust and who to fear. The one thing Silver does know is that she must find a way out . . .
My Review: I'm actually really mixed on Reckoning! I definitely enjoyed the second half of the book more than the first, but I'm a little torn on whether I liked or disliked the book overall. Largely, though, I did enjoy it- I think most fans of the dystopia genre will definitely love it.
Reckoning is set in a post-war Britain (Which made for a nice change; most dystopia novels I read are set in the US!) where England has been divided into four realms and is ruled over by the new king, who essentially restored order from the war chaos. Every year, The Reckoning takes place in July for all of the teenagers entering adulthood, and determines where, and how you work for the rest of your life, under either Trog, Inter, Member or Elite (Which felt slightly Divergent-y).  A random lottery of Reckoning qualifiers selects 'offerings' for the king, who must live in Windsor Castle and serve him directly.
There were quite a few aspects of the book that reminded me a little too much of other dystopia novels. It definitely disappointed me a little bit… Though of course with dystopia being such a big, popular genre still it's common to find books similar to others. It did take me a little while to get properly focused on the story, as I just kept picking up on similarities, though I'm probably exaggerating a bit… Reckoning still has many original aspects. After about half of the book though, I did start to get really engrossed.
Reckoning has so many plot twists! I honestly had no clue where the book was going, for the most part. I read one huge twist on a school journey, and had to restrain myself from gasping out loud! xD Wilkinson's writing lures you into a false perception of things, then shocks you when you least expect it. That's a big reason why I did really enjoy the story.
I'm mixed on Silver Blackthorn, who is the protagonist of the novel. I struggled to connect with her, for most of the story; a big reason why I love dystopia novels is because I find most of the characters really relatable, though for some reason I just didn't connect with her, mostly! I think a lot of people will like her character. I think that, just like with some of the plot, I just didn't really connect with her.
Overall, Reckoning is a really great read if you're a fan of the genre. I liked the setting for the book, and the plot twists are totally shocking. Kerry Wilkinson's writing is very enjoyable; I think I will read book two if I get a chance to (Reckoning kicks off a new dystopia trilogy!). I'm really sad I didn't enjoy this as much as other people… I just didn't click with parts of the story. However, all the Goodreads reviews of it that I've read have been glowing, so I'm pretty sure most people will love this book. ;D
My Rating:
I received a copy of Reckoning form the publisher, in exchange for a review. In no way at all did this affect my thoughts.
Random bloggy note that's too short for its own blog post:
Over the course of June and July I'll be really busy with non-bloggy things; I have to revise for all of my end-of-year mock exams, and if I qualify on the next round on an extra curricular quiz team, I'm basically going to drownnnnn in revising for that, too xD Blog posts won't always be as frequent from now on (Some of you might have noticed I only managed to get one published last week!).
I decided against going on a hiatus, because I don't think I could manage leaving my blog for two months or so! However, hopefully blogging a little less over the next few weeks will let me get more reading done, and some more blog scheduling and planning for the future done, too. (: Thanks everyone for reading though, as always!<3