I thought I'd written this post up, but I hadn't! Just before Hallowe'en, the Guildford Book Festival happened! It's a really awesome festival for literature, that has some really great authors for events. I went a few years ago to see Alex Milway, who writes the Mousehunter series. I know Matt Whyman, author of The Savages, was there for an event this year, but unfortunately I couldn't get to that one! But, I did get to go and see the 'Master of Horror,' Darren Shan, talk about his ZOM-B books! I'm a huge fan of ZOM-B so I was so excited to see him talk about them and get my books signed again (I met him in a Waterstones signing a few years ago :D) I was armed with a notebook and a pen, and nearly went through a whole ink cartridge scribbling pretty much everything Darren Shan said, down! This is only… half of it. And it's still long…
Darren Shan kicked off the event with a little intro to the world of ZOM-B, then a reading of the prologue of the
first book, which was even more terrifying when he read it aloud. It was really atmospheric! He also talked about putting in some emotion to the book, so that it wasn't all gore and horror. "Any good book, even a horror boo, has to have an emotional journey," He said. It definitely goes for his zombies book too, because the main character has to deal with an abusive, racist father.
He then read a little of ZOM-B City… and probably picked the worst scene in the book, about a baby and Mr Dowling, the evil zombie-like clown. It was so freaky and Darren made a lot of people jump (including me) at points!
After more talk about the rough plots of the books, and the readings, Darren moved on to a Q & A from the audience. My brother, obviously, had to stick his hand up first and tell Darren to not drop spoilers. He'd been trying
to plough through the series on the train to Guildford! During the Questions and Answers, we got to find out that Darren's favourite films were the old Hammer Horrors (I agree. I've watched a few and they're awesome) and Salem's Lot, which is an adaption of a bestselling King horror book. Someone did ask about a dream cast, for if the ZOM-B books were turned into films, but Darren couldn't answer, as he'd rather focus on his writing than possible productions!
He said there's nothing in the pipeline yet for ZOM-B to become a film… but I hope there will be, as that would make an awesome movie.
In one of the last questions, he revealed the name of the next book to be released in January. Soon after on twitter the cover (left) was revealed… ZOM-B GLADIATOR! ;D I am EXCITED.  According to the author, there's going to be a new villain introduced… so I am double excited. There was one question on his writing, which I can't remember, but scribbled down the answer to which was really interesting. Darren Shan said that there wasn't much, horror-wise for children to read, when he was younger. That's a reason he writes horror books; to fill the gap in his childhood.
Also, on stand-alones, Darren made a really brilliant point, that I wrote down. "I don't plot, I just go from story to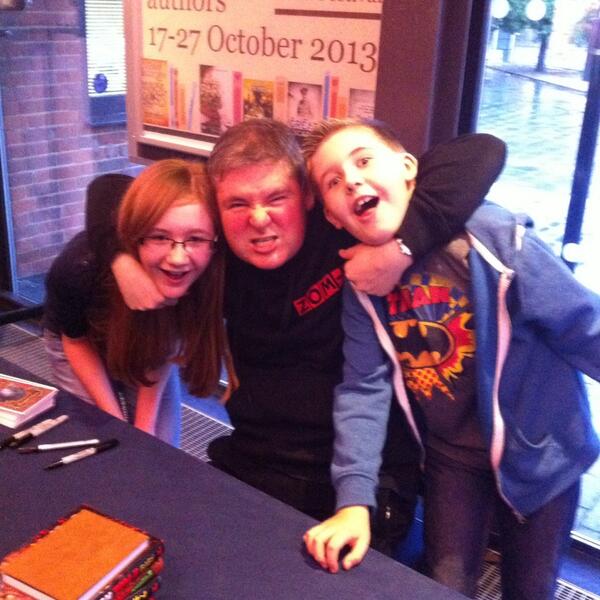 story and give a story as much space as it needs." Which, I guess, is why most books are turned into full-length sagas, because he has so much to write about! He also said he'd rather write stand-alones, but his ideas won't let him. That's obvious, considering all of the series he's produced!
Nearer the end I asked a question, which was What character would he meet, from any of his books, given the chance? He replied that he'd really loved to meet Larten Crepsley, who is a character I absolutely loved, from the Saga of Darren Shan.
The event ended and my brother and I queued up to get our whole ZOM-B series signed! When Darren was signing our books, he recognized me from my blog, as he'd recently written up a guest post for my Halloween Reads event which took place in October- and I interviewed him a few months ago! It was awesome to get to talk to him properly, as I didn't really talk very much at the signing I'd been to before, when I was about nine or ten. Above is the picture my brother and I got with Darren- he likes to strangle people. My brother pulls good I'm-Being-Strangled faces. I do not.
Thanks to Guildford Book Festival and Darren Shan for hosting a brilliant event, I enjoyed it so much!